Will's 10 Favorite Dance/Electronic/Drone Albums of 2011
10. Julia Holter
Tragedy
[Leaving]
Tragedy is album that exceeds at immersion and emotional communication. As many times as I've listened to it it's hard to keep track of the beginnings and ends of songs. Little ambient pop exercises are embedded in a seemingly undefined universe made of crackly field recordings and found sound. Tragedy has a sort of flow of unconsciousness steeped in eager dream logic. It's like I'm experiencing Holter's meandering dream, flitting through stray bits of memory and imagination before it momentarily blossoms into beautifully cinematic color only to move on again.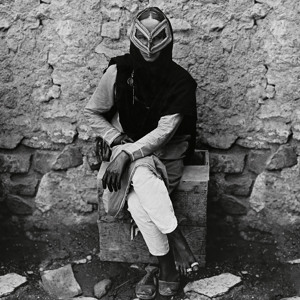 9. Andy Stott
Passed Me By / We Stay Together
[Modern Love]
We'll call Andy Stott's two 2011 EPs an LP for this list's sake. Both are really quite good, butWe Stay Together is the one that initially gut-punched me with its simplified and slowed 4/4 take on dub techno, all attention paid to the skull-rattling low end. I love the throbbing, sexual, dangerously nocturnal atmosphere, glugging kick drum pulsing like a confident and perspiring heart beat. These songs are heavy and revelatory and heavy, but they're also incredibly detailed and subtle. Behind an unconscious, muffled wall, spirals an intricate weave of metallic drones and impenetrable dance hooks. I want to throw this one on and watch everyone dance like horny zombies.
8. Holy Ghost!
Holy Ghost!
[DFA]
Holy Ghost's full-length debut grabbed me immediately and it hasn't really let go. It was always the first record I'd throw on during a number of impromptu dance parties this year. Just 10 tracks of perfectly arranged, synth-heavy dance music. The duo's neon-lit space disco is less cosmic than, say, Lindstøm, making a more pop-leaning, floor-ready statement than anything the genre's foremost voice has managed. Whereas the Norwegian seems content traversing the deeper, uncharted regions of the cosmos, Holy Ghost! is back at the darkened zero G satellite dance club where all the razor girls and space jocks are getting the ef down.
7. Bruno Pronsato
Lovers Do
[Thesongsays]
Bruno's follow up to 2008′s magnificent Why Can't We Be Like Us doesn't quite reach its predecessor's thickened heights, but it gets pretty damn close. Pronsato goes for a more organic and understated sound on Lovers Do, filled with snippets of nocturnal brass, untethered jazz drum samples, crackling hand claps, and the sweetened pulse of 4/4 . For me, this kind of album simply goes down like aural comfort food – the samples are so endlessly rich and the sonics so supple. Pronsato's arrangement is so subtly momentous and complex. When percussive elements are introduced, you barely notice they hadn't arrived yet, but the song's pace immediately doubles down. Lovers Do is very easy to get lost in.
6. Nicolas Jaar
Space Is Only Noise
[Circus Company]
A lot of things I love about minimal tech, ambient, dubstep, weirdo hip-hop, and pretty much everything else the kids are into (and some they're not) all over this record with smaller than small percussion sounds, Burial-esque isolation, organic instrumentation, beautifully obscured vocal samples, a penchant for detail and negative space, downbeat jazz flourishes, and field recordings of water and nature and voices, but Jaar somehow manages to arrange it all into somewhat of an unlikely underdog pop record. Space Is Only Noise is a cohesive and atmospheric marvel and Jaar doesn't sound like anyone else despite being so of his time. For me, this is simply a beautifully constructed album album that manages to spark my imagination and not let up across its whole length.
5. Shlohmo
Bad Vibes
[Friends of Friends]
I came to Bad Vibes for the off-the-grid Flying Lotus-esque woodblock percussion and dusty, metallic samples, but I stayed for the beautiful, tear streaked melodies. Shlohmo manages a similar feat as last year's Teebs debut Ardour, creating a unique sound with a great deal of help from the current trend of Los Angeles weirdo hip-hop. But Shlohmo incorporates naturalistic, Boards Of Canada synths, distorted vocals and keyboards as well as crackling found sound to create a sad, imagistic, personal journey of longing and isolation. This album stuck with me in a way that not much out of the LA (or any) beat scene does.
4. Demdike Stare 
Tryptych
[Modern Love]
I can't think of an electronic group more palpably atmospheric than Demdike Stare. Tryptych is two an half hours of the blackest most evil ambient techno imaginably. The group's samples skew on the more atonal side of jazz and the more primeval side of world music, and in the right setting (midnight, all lights out, empty house) this stuff can be incredibly scary. Demdike Stare treads the darkest pits of hell. The type of blackness anyone who claims the color as some sort of identity would be afraid to go. I love atmospherically rich music and Demdike Stare paint the walls with horrific nightmarish visions.
3. Sepalcure
Sepalcure
[Hotflush]
Sepulcure can hang at both ends of bass's stay-at-home-with-the-headphones-on and get-ready-to-dance-your-face-off spectrum. There's enough attention to detail at work here to keep me on my toes as I try to devour all the sounds, yet I can't help but move. Sepalcureis just so aggressive in quality – managing to ceaselessly surprise as it introduces surprisingly resonate hooks or surprisingly emotional vocal melodies worming their way in out of the darkness. But it also has an endless supply of lovely snare sounds and production subtleties, and the bass here is so thick and throbbing and inviting. It's one of the most accomplished and exciting full-lengths to come out under the banner of bass music in a while. Definitely gives me that kid-in-a-candy-shop feeling.
2. Machinedrum 
Room(s)
[Planet Mu]
This was the only dance record this year that absolutely floored me (heh). Travis Stewart (also half of Sepalcure) goes the way of UK bass and Chicago footwork to create an incredibly aggressive record full of chopped up and momentous vocal samples, minimal's knack for detail, furious drum programming, layers and layers of melodic synths, and bombastic rivers of depth-defying subterranean bass. Despite its frantic pace it manages to be lush and beautiful as well. The unconscious auto-tuned R&B lullaby "Lay Me Down" is one of the best bass tracks ever crafted. And then there's the apocalyptic "Where Did We Go Wrong," it's tear-stained vocal sample like an effigy for a collapsing world emanating from busted radio speakers.
1. Balam Acab
Wander/Wonder
[Tri Angle]
Balam Acab has a lot of things I like in electronic music – warped vocal samples, clacking drum programming, musical field recordings – but it's how he constructs those things into their glimmering whole that really does it for me. Everything on Wander/Wonder is beautiful and affecting without being overt and obvious about it. It's not just the slowly blossoming vocal and synth melodies – the vulnerability and nakedness in how the samples and melodies are constructed create gentle wonder and beauty that's rarely found in music, period. Listening to the record feels vaguely voyeuristic, looking into someone's private internalized world of memories and emotions.
—Will Ryan // December 17, 2011